How to identify companies committed to a greener future
When, eventually, the threat and ripple effects of the Coronavirus have calmed, we will likely find a world that is much changed from the one that ended in 2019. What will not change, however, is the fact that, without due consideration for the way we conduct ourselves, our natural world will suffer at the hands of human excess.
This pandemic has highlighted the capacity for recovery that our world has, but it has also made strikingly obvious how much of what we have taken for normal can be reconsidered. At Emitwise, we are as committed as ever to the protection of the earth's natural beauty, and we know that many of our following is, too.
The modern individual understands the value of their voice. Today, it has the power to shape industries that have entrenched themselves in outdated practices. With our wallets, we cast our vote. We have realised that, with the industry's effect on the world we live in, we have a stake in, and a certain degree of control over, how it should run.
Stakeholder Capitalism
The idea of 'stakeholder capitalism' proposes a shift away from profiteering for its own sake, a step toward a more conscientious way of doing business. Consumers will play a part in directing this shift. Our decisions on what to buy and who to buy from are important but only as important as the information you use to inform your decisions.
So, what must the conscientious stakeholder consider before it makes its decision?On Ecolabels
Many companies use terms such as 'natural' and 'environmental' but seemingly offer little in the way of genuine evidence of claims. One way to help differentiate is to look out for ecolabels. However, some labels relate to products, others to companies, and these can cover a single issue or multiple elements.
There are hundreds of different Ecolabels and they can be self-declarations or third-party certifications. This can be all too confusing. So where to start?
Product level ecolabels can be very valuable, and can relate to very specific product-level issues – for example, the Roundtable for Sustainable Palm Oil (RSPO) is a label specific to the production of palm oil and palm oil-related sectors and products, while the EU Ecolabel covers a wide range of product groups, from major areas of manufacturing to tourist accommodation. The most reliable labels are those presented by independent third party organisations.
There are too many different labels and certifications for us to list here, but we'll content ourselves with analysing our favourites and, hopefully, you'll be able to walk away from reading this with a better idea of which companies you can trust.
Fairtrade Foundation
We've all heard of the Fairtrade Foundation and there is a good reason for that. The UK based charity is a truly excellent organisation that monitors and standardises every stage of the production process.The Fairtrade sticker, found on some of your favourite products, tells you that farmers and workers have been protected as per Fairtrade standards and that companies have paid a fair price for the raw materials. It also shows at every link in this supply chain, those involved in production have adhered to the Foundation's environmental guidelines.
B Corporation Certification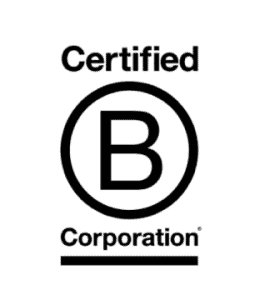 Like RSPO, the B Corps certification sets standards for a certain level of expectation, though this relates to whole company activity. The B Corps certification is awarded by an independent third party, B Corps, and certified companies only achieve that status if they can prove consistent adherence to the "highest standards of social and environmental performance, public transparency, and legal accountability".
If you see the B Corps logo displayed on the packages or website of a company then you can safely assume its adherence to strict standardisation.
You will be able to find this certificate on products produced by Ben&Jerry's, Patagonia, Pip&Nut and the Guardian Media Group.
Ecosia's Green Leaf
Another example of a B Corps certified company is the increasingly popular search engine, Ecosia. Ecosia enters an industry dominated by internet giant, Google. Things are done a little differently over at Ecosia, however. Eighty per cent of their profits are donated to non-profit organisations concerned with reforestation.
With their trusted commitment to a greener future and their influence as a search engine, Ecosia is uniquely placed to give consumers immediate information as to which companies are committed to sustainable practice.
Ecosia hopes to empower and inform its users. Companies in whom they trust to uphold their own ideals are displayed on their search engine results pages with the 'green leaf' icon alongside.
If you use Ecosia as a search engine and find the 'green leaf' alongside a search result, it indicates a company's commitment to sustainable practices or products and is often, though not always, an indication that those companies are also B corps certified.
Another alternative way of identifying companies with strong sustainability performance is using sustainability scorecards, or indices, whereby independent organisations assess companies across various criteria.
The CDP
Some of you may have heard of the CDP under its former guise, the Carbon Disclosure Project. It started out as a commitment, a covenant that bound companies to transparency through the disclosure of their carbon use. It has since expanded its remit to encourage similar transparency with regards to broader environmental impact.
After expanding its remit, it shortened its name. Now known simply as the CDP, it is a not-for-profit organisation that hopes to direct corporate policymakers toward a greener future.
The CDP publishes an annual A-list for cities and companies ranking them on their 'Environmental Transparency and Performance'.
The CDP's A-list can be used as an accurate guide for whom to trust and which city or firm must improve. Their A-list considers a company's performance over different categories: 'climate change', 'forests', and 'water security'.

We're proud to be one of only a few CDP Gold Accredited Providers, enabling us to work with companies to empower their disclosures and streamline their carbon reporting.
Use your stake to take stock
Global corporations can and will be expected to do more with regards to their emissions reporting and their commitment to a more sustainable future and consumers must remain vigilant when it comes to endorsing a company with their custom.
However, the above certifications do offer a benchmark for sustainability and the companies listed alongside those certifications are certainly the best of, what will hopefully be, an improving bunch.